CenerTech awards Bluewater a contract for the Lufeng 12-3 FPSO Turret Mooring System
Bluewater Energy Services B.V. has secured a contract with CNOOC Energy Technology & Services (CenerTech) for the engineering, procurement and construction of Turret Mooring Systems including a new mooring system. This as part of the Lufeng 12-3 project in the South China Sea
The internal turret-mooring system will be part of the floater required by South Korean operator SK to develop the Lufeng 12-3 field offshore China.
The newbuild FPSO will be designed to accommodate 80 people and to supply power to the field's wellhead platform, with storage capacity of 650,000 barrels of oil and production capacity of 70,000 barrels per day of fluids.
The floater, which is scheduled for completion in 2023, will be turret moored in 240 metres of water.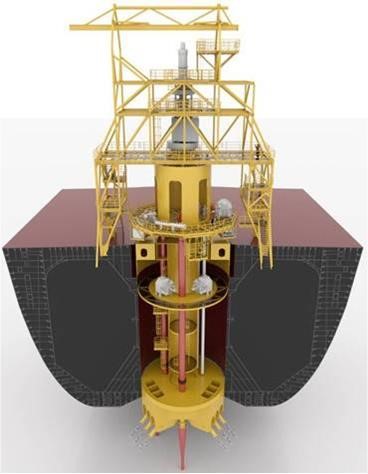 About Bluewater Energy Services B.V.
Since its foundation in 1978, Bluewater has built a technological lead specialising in design, development, lease and operation of tanker-based production and/or storage (FPSO, FSO) systems, and has become a leading provider of innovative Single Point Mooring (SPM) systems. The company has designed, manufactured, supplied and installed many innovative FPSO, FSO and SPM systems for oil companies worldwide through turnkey supply and time charter contracts. The company also provides operational and logistic management and support for FPSO and FSO systems. Further information is available at www.bluewater.com
For more information, please contact:
Bluewater Energy Services B.V.
Taurusavenue 46
2132LS Hoofddorp
The Netherlands
+31 23 711 5500
Info@bluewater.com