Advanced loading towers
The Bluewater Advanced Loading Tower (ALT) enables safe and year-round (off)loading of tankers with bow station offshore, both in open sea and ice-infested waters without the need for a jetty or breakwater. The head on the tower rotates unrestricted either actively or freely when the tanker is connected.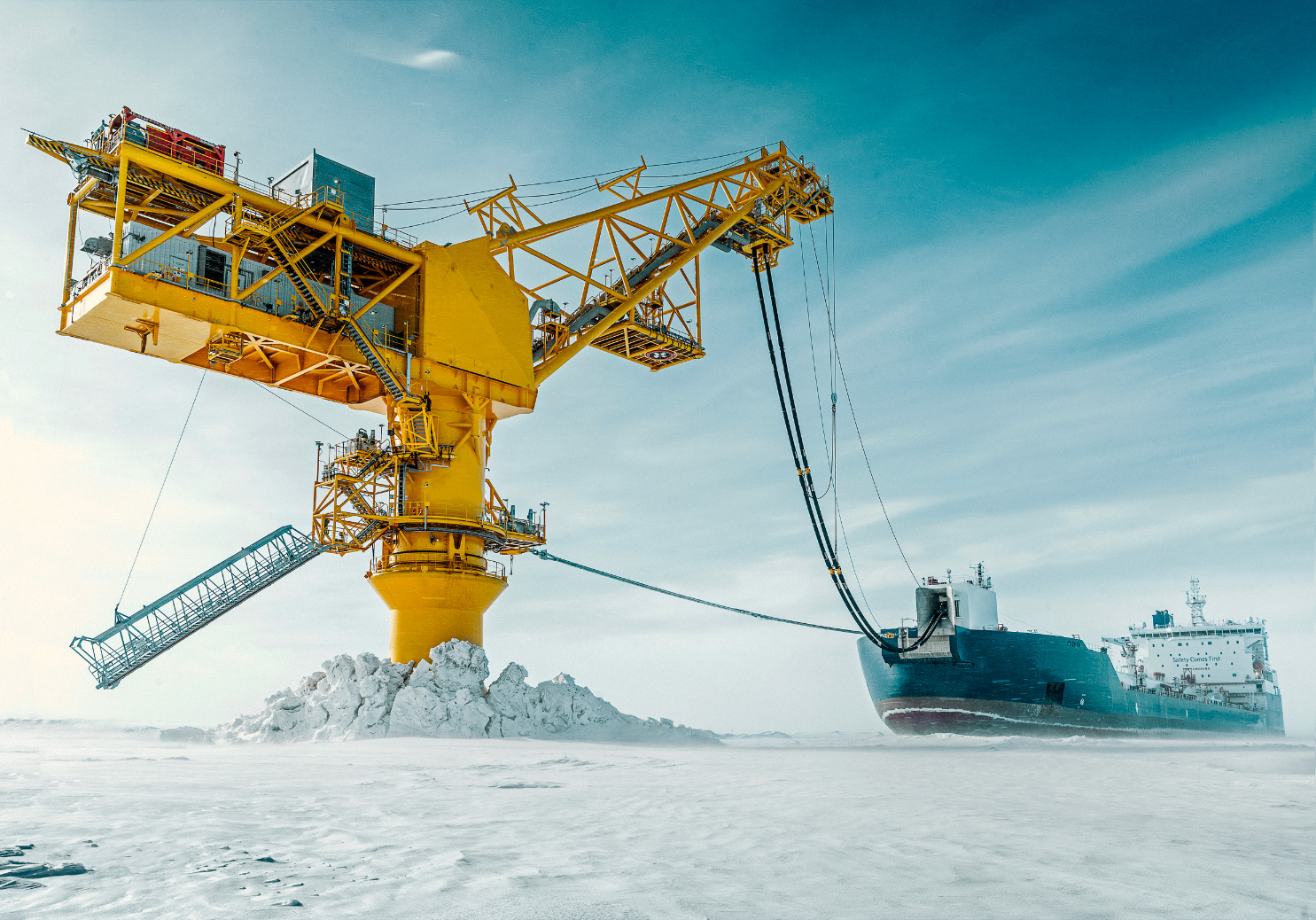 Being an unmanned facility, it is safely operated using remote, portable control units and the shore base. The tower features highly specialized structures, materials and equipment demonstrated in the ­field and rewarded by our clients for its uninterrupted availability in worlds' coldest and most remote locations.
Where required, our exclusively designed ice cone gently breaks moving sheet ice of metres thick and sustains ice ridges beyond 10 metres in height. Our arctic experience, surviving massive ice loads in extreme windy and cold areas is easily deployable for alternative mooring and transfer systems too, like multiple towers with bridging structures.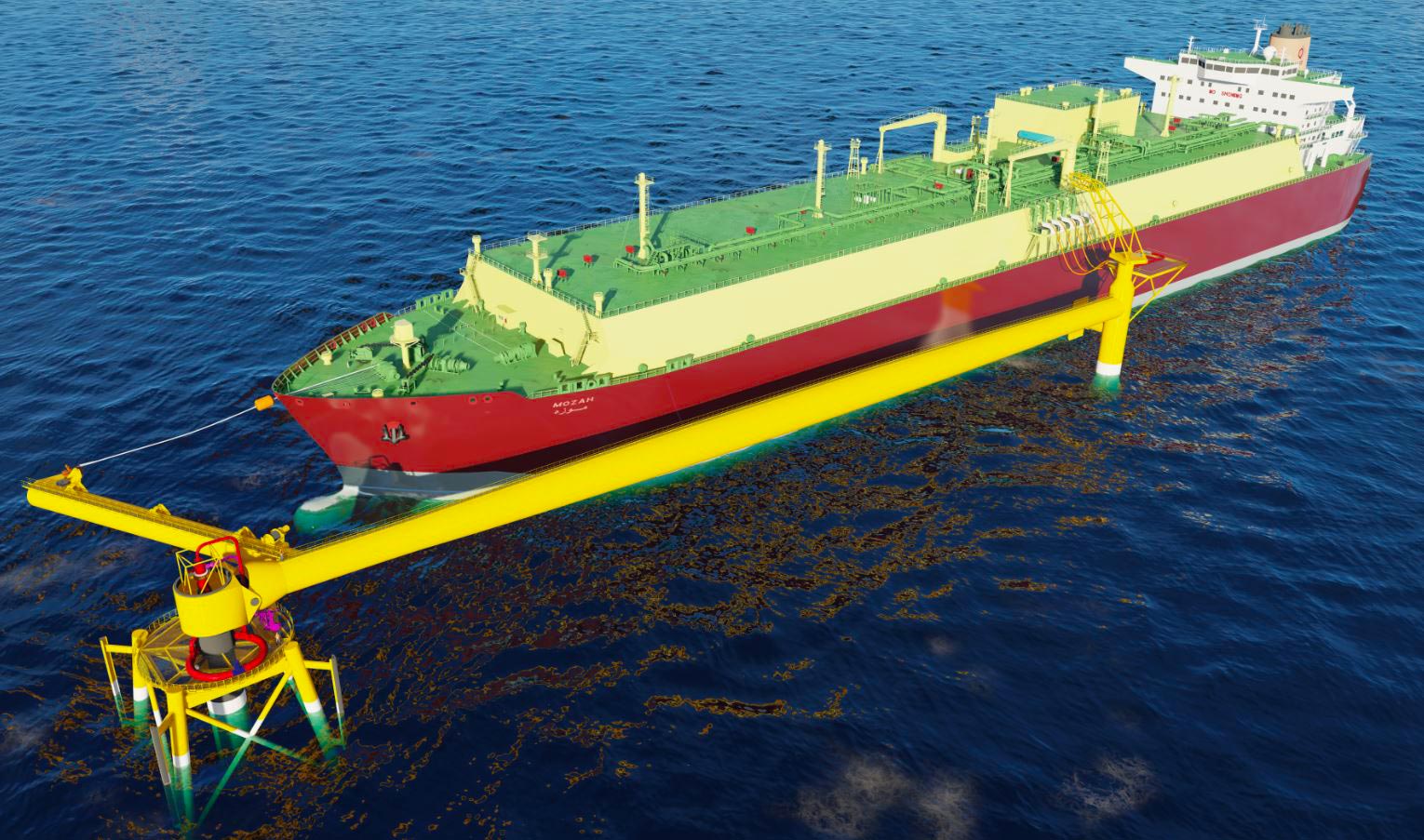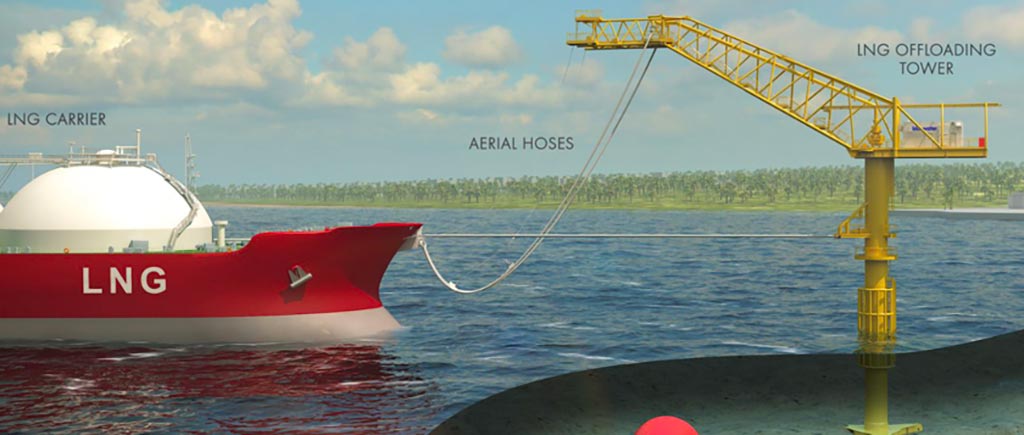 Our qualified multipath swivel and large diameter aerial hoses enable year-round transfer of hydrocarbons as well as cryogenic liquids like LNG. Vapour return lines can be included. Transfer of liquefied hydrogen and liquefied CO2 are on the drawing board.
We offer a range of Jettyless LNG Terminals  for near-shore mooring and (un)loading of LNG carriers, Regasified natural gas or LNG can be transferred to/from shore, either directly to the shuttling LNG carrier or through a moored FSRU or FSU. A most lean and scalable concept of the Cryogenic Loading Tower (CLT) is approved in principle by both client and DNV to economically (off)load modest to large sized LNG carriers near shore. It is based on the field proven Advanced Loading Tower and features a special, highly insulated pipeline to transport the LNG from/to the shore. Outfitting and performance can be adapted to meet specific client requirements. For midship (off)loading of LNG carriers near shore we offer alternative LNG loading solutions like our basin tested tower with rotating berthing arm called the Big Sweep.