LNG Loading & Offloading Systems
Bluewater has developed cryogenic systems for offshore LNG transfer, both for ship-to-ship and ship-to-shore using flexible composite aerial hoses. Building on 40+ years of engineering and operations of permanently moored systems, Bluewater developed cost effective solutions for LNG transfer.
Tandem offloading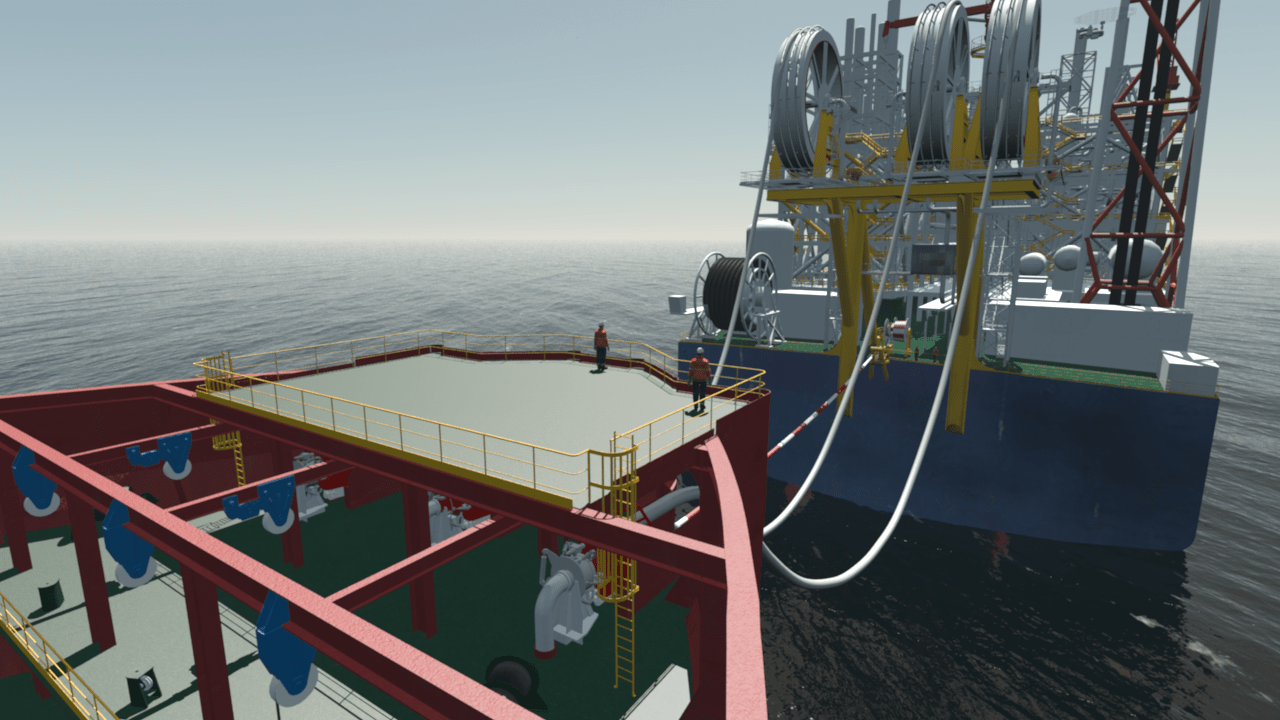 Ship-to-shore Cryogenic loading system connects the bow of LNG carrier to a Cryogenic Loading Tower (CLT). This CLT is a tower based solution that can transfer LNG to and from ships or floating offshore units. This solution replaces the jetty / breakwater and is a complete offshore solution.
The CLT is deployed as single point mooring system in water depths of typically 10 to 30 meters. The bottom fixed tower is equipped with one or more aerial cryogenic composite hoses. Bluewater's highly insulated vacuum pipe-in-pipe subsea pipelines, called VI-PIPs, circulate LNG from the storage facility to the tower base.
The CLT is suitable for 0.1 to 1 MPTA LNG import or export, making it for example suitable for LNG feedstock import to onshore power plants.
Following the SIGTTO guidelines and procedures, the tower and hoses are drained and purged to ensure a safe holding mode
The CLT system can be deployed in several configurations, ranging from (semi-) permanently moored LNGC's that are converted to Floating Storage Units (FSU) to the temporarily moored LNGCs in benign to harsh weather conditions. The CLT can also be deployed in ice invested waters. In all these configurations, the Bluewater CLT enables economic import of LNG, especially for small scale LNG projects.
Ship-to-ship Cryogenic Tandem Offloading system connects the bow of a shuttle LNG carrier to the stern of a LNG production vessels, like a FSRU or FLNG vessel.
Novy Port
Tandem mooring of two vessels is a proven system and is very safe and reliable in harsh weather conditions. Typically the operational limits exceed sea states with 5.5 m significant wave heights. The LNG transfer includes large bore aerial type composite hoses for LNG and vapour return. Per hose upto 5,000 m3 LNG per hour can be transferred.